Schedule Evaporator Coil Services with our trained technicians.
Thinking of getting a new system? We'll give you an installation estimate for FREE! All our technicians follow CDC guidelines when visiting your home. Request a free consultation or read more about our service.
All our technicians follow CDC guidelines in accordance with covid safety regulations. This includes social distancing, frequent hand washing, and touchless approval. We also give our providers daily health checks to ensure the health of your family.
We've proudly served the VA, MD, & DC area since 1967. We listen to your needs and make sure you understand all the services and costs before we go ahead with work. You'll know what to expect from start to finish.
Old or broken AC Filters will leave you paying higher energy bills each month. Schedule an appointment with our technicians so they can help you get the proper filters installed into your unit.
Cyprus Air will walk you through the process of getting a new water heater or servicing your current one. See more about Repair Services here.
Keep the moisture out of the air during these humid spring and summer months. Schedule a free in-home estimate and learn how you can breathe better.
Frequently Asked Questions
What's Included in Our HVAC Services
HVAC Installation and Replacement
HVAC Repair and Maintenance
Fireplace Install, Repair & Showroom
Ductless Heating & Cooling System
Air Duct Cleaning
HVAC Installation and Replacement
HVAC Installation
Looking to cool off?  We offer free consultations and in-home estimates.  Don't pay unnecessary fees before you've committed to an HVAC system.  Call Cyprus Air and we'll send a comfort specialist to estimate the cost of an installation or replacement. 
Our comfort specialist will:
Assess your home's current HVAC system and ducts
Inquire about your family's air quality, energy savings, and comfort needs
Provide multiple budget and finance options
Explain to you the process of installation from start to finish
We promise to help you choose the best air conditioning systems, at the right price for your home or commercial business. We strive to keep your home energy-efficient so keeping cool in the summer isn't costing you more than it should.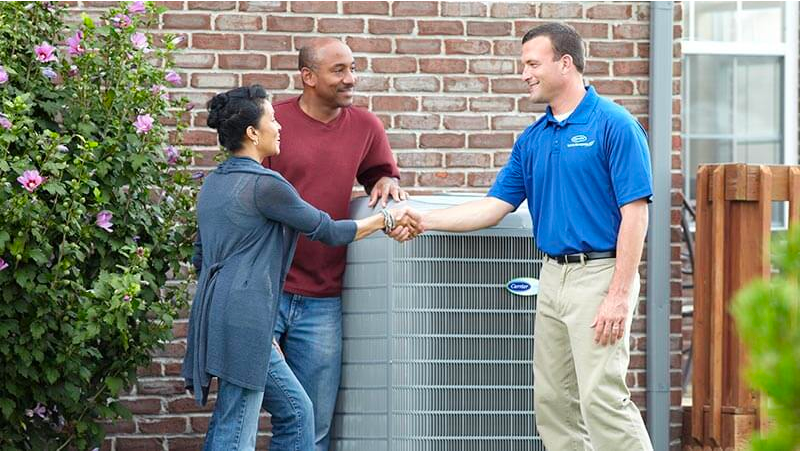 HVAC Repair and Maintenance
Fireplace Install, Repair & Showroom
Ductless Heating & Cooling System
Air Duct Cleaning
If your system is having any issues, you know you can trust Cyprus Air to repair the issue right the first time. See more about Repair Services here.
Get a FREE consultation and estimate for your new HVAC system. We are always here to help you choose the perfect system for your home and budget. See more about Installation Services here.
4.7
out of 5
96%
of past customers recommend Cyprus Heating and Air
Service was great and any questions that I had asked were positive about the work done and work going to be completed. Plus, positive attitude from all the stay along with great workmanship
My technician introduced himself at the door, was very courteous and quick. We haven't had any issues with our HVAC since it was installed two years ago. Love that they do a yearly check-up on it.
Cyprus Air came by my house to do their service inspection & was able to complete some repairs to my hvac system very quickly & was done w/in 1 hour! Very prompt service & showed me all his worked when he was done. Peace of mind a professional came by to perform proper maintenance and repair to my hvac.
Came and fixed hvac in record time I mean like 12 mins!!!! The tech was top notch
If you can't remember the last time a technician serviced the evaporator coils on your air conditioner, or if you aren't even sure what they are, don't worry. Evaporator coil service is frequently overlooked. But performing regular maintenance on your evaporator coils is essential for a properly working air conditioning unit. Cyprus Air technicians know all the ins and outs of air conditioning maintenance and can provide professional evaporator coil services.
Signs You Need Evaporator Coil Services
You might be due (or overdue) for services if you notice any of the following:
- The air isn't cooling or is less cool
- You hear unusual sounds coming from your air conditioning unit
- You notice rapid cycling, meaning that your unit runs for a short time, cycles off, then shortly after cycles back on again
- The unit does not cycle at all—it won't turn on
The Benefits of Evaporator Coil Services
Keeping evaporator coils maintained and in good condition results in several benefits to you. You'll notice that your air conditioner cycles more effectively, pushing cooler air more easily into your home. Regular evaporator coil service is also cost-effective. It reduces the strain on your air conditioning system and helps it run more efficiently, so your system uses less power. Finally, a properly maintained evaporator coil won't leak and cause unsightly and costly water damage.
Maintenance and Repairs for the Evaporator Coil
Some people wonder if they can perform maintenance on the evaporator coil themselves. It's a good idea to clean the coils regularly, and you can do this with a bristle brush and a foaming coil cleaner. But if you have never cleaned the evaporator coil before or suspect there is damage, then it's best to call Cyprus Air and request a technician. Professionally trained technicians can assess the evaporator coil.
We'll not only install a new AC filter, but will also check to make sure everything is performing as it should. If the unit is more than ten years old, it could be time to replace the coil. An inspection will help determine if the technician should repair or replace the coil. Often a professional repair can have you cool as a cucumber in no time. Technicians can also demonstrate how to perform a cleaning. Keep in mind that the best times to call a technician for evaporator coil services are at the beginning and the end of the summer season. And if you've just moved into your home or you have never had the coil serviced, it's better to be safe than sorry and schedule a service today.